Maai Mumbaai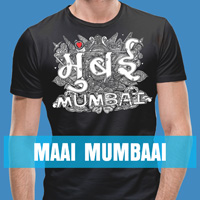 For a city that is an overflowing bowl of culture, tradition and change which barely manages to contain itself, there always are a bunch of admirers.
And if you are a romantic (like we happen to be), Mumbai is the city that often seems to love you back; a city that consoles you and cradles you in its arms.
A city that seems to have a life and will of its own. Like a mother. And that is what Maai Mumbaai celebrates; the story, the spirit and the soul of Mumbai, the city with a heart.
Maai Mumbaai represents the eccentricities, the people and everything that is Mumbai.
Showing 1 to 15 of 15 (1 Pages)
Track Order
Order ID:


Email: